Ekonomisk återhämtning eller den största kreditbubblan i världshistorien?
Vi är ju inte nyliberaler här i Liberala partiet, utan snarare "gammel-liberaler". Detta förhindrar dock inte att man läser och begrundar material av nyliberala tänkare när det känns som det finns matnyttig information att hämta. Jag tänkte därmed tipsa om att Johan Norberg skrev nyårskrönikan för The Spectator, och att den finns tillgänglig här: The Great Debt Bubble of 2011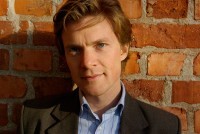 Ett antal av de mer ekonomi-intresserade av oss var redan i våras på premiärvisningen av Norbergs film "Överdos", vilken levererade samma budskap. Ett drygt halvår senare tycks det allt mer som budskapet var rätt, och det blir allt tydligare att något inte står rätt till med alla de "räddningspaket", "stimulanser" och nollräntor vi dras med. Hur slutar historien? Omöjligt att förutsäga, men en sak tror jag personligen : Det kommer bli mycket stökigt i världsekonomin framöver, och det kommer dessvärre bli sämre innan det blir bättre.
Filmen "Överdos" finns tillgänglig på YouTube (engelsk version) här.